Social Media and the French Open – Patience Wins Points
I will now proceed to write a blog on a topic I know nothing about — PATIENCE!
I'm the guy providing color commentary on the Subaru driving 10 MPH below the speed limit…who just happens to be in front me on a one-lane road with no-passing zones for the next 10 miles.
I tend to be more in the "Patience is not a virtue, it is a waste of time" camp versus "Patience is not the ability to wait, but the ability to keep a good attitude while waiting."
Playing clay court tennis frustrates me. I want to win the point. NOW!
The French Open tennis tournament rewards patience more than any other grand slam. Even though the stats below are slightly dated, you can see where players at the French Open will hit less aces and winners. Instead, most of the points are won through their opponent's errors. Here's the moral of this blog story: Don't be the opponent!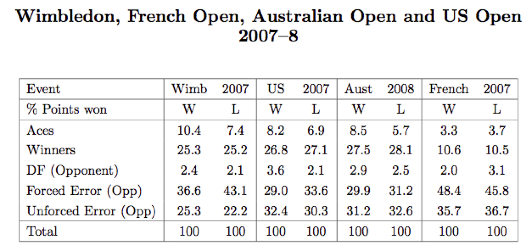 In an earlier post, French Open champions gave us lessons on leadership. What can these same champions teach us about – grrr – patience?
Construct the Point

– the best clay court players are like chess players. They do not consider individual moves and shots. Instead, they execute a strategy and shot sequences to increase their chances for success.
In social media, execute an overall strategy of building positive brand awareness by patiently and sequentially building relationships with your community.
Do Not Force Winners

– the best clay court players see an opening, and they know they are successfully executing their strategy. They do not go for the outright winner. They stick to the plan.
In social media, you will see openings to go for the winner (the sale) while building a trusting community. Use caution and focus on educating and informing! Trusting communities do not happen overnight, so do not violate that trust switching to aggressive sales techniques. Do not risk becoming a Voice in the Wilderness.
Probe Weaknesses

– the best clay court players will hit to the backhand to see if they can get a weak reply they can exploit. If your fitness and mobility are in doubt, they will move you side to side. If they know you do not like to volley, they will intentionally hit short balls to see how you respond when you come up to the net.
In social media, trust is built through two-way engagement. Once engaged, you can ask your community about their pain points and weaknesses. What keeps them up at night? What do they not like about your competitors' products? What do they not like about YOUR products? Your community has chosen to "opt-in" to what you have to say. Engage. Listen. Then provide solutions with integrity!
Break the Rhythm

– the best clay court players dictate the point. They establish a rhythm to the point, and then they change the rhythm on their terms. Perhaps they trade cross-court backhands until they can run around the backhand and hit a forehand up the line. Or they progressively pull an opponent further out of position with penetrating ground strokes, and then they hit a drop shot.
In social media, break the readers' rhythm with something refreshingly new. Inform and educate, but throw in some entertainment, also. Be a joker or a storyteller. Take a poll. Share a human interest story. And there lies the key: be human!
Rely on Endurance

– This year's French Open had a 36-stroke rally. John Isner played a 5 hour – 41 minute match. Male clay court players can expect to be on the court for 4 hours. If they are not fit, they wilt!
In social media, you need to let your fans – and your opponents – know that you are prepared to be there until the cows come home! You are committed to maintaining a consistent and helpful presence with your engagement. You have Social Media Fitness!
Go for the Openings

– At some point, French Open champions know when they have successfully executed on their strategy. They are now in position to take advantage of the opening. The marks of champions are having the awareness and guts to go for it!
In social media, it is important to cultivate relationships and build trust. However, you are in the business to stay in business. At some point in time, you have to ask for the sale. Let your integrity and engagement be pillars of your value proposition. And if the answer is no – keep engaging. Sometimes it is a benefit to be the "first alternate". When unrealistic expectations go unmet, prospective clients remember your value proposition and grace in defeat. You then get a chance to shine with more realistic client expectations.

Do you have the patience to play clay court tennis? Do you have the patience to build brand awareness and trust over time without going for the premature winner?

Patience and perseverance have a magical effect before which difficulties disappear and obstacles vanish. ~ John Quincy Adams